BRASS NEEDLE VALVE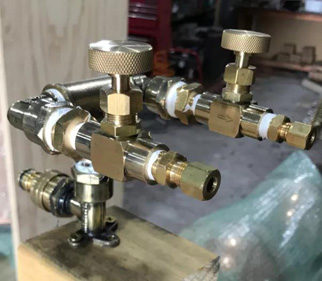 Each brass needle valve is pressure tested at the factory ,this valve has a knurled brass handwheel and can be used on gas or liquid,pressure can reach to 1000 psi. The stem is stainless steel with a fine thread for controlling flow.
Technical requirements:
1.All valves shall be tested for sealing and inspection of assembly quality before delivery
2.Max. working pressure: 1000 psi
3.Working medium: gas, water and oil
4.Working temperature:
NBR O-ring: -20 °C -- 150 °C VITON O-ring: -40 °C -- 200 °C
Application:
For control and adjust the flow for gas and liquid and other media which is not corrosive to brass Solid brass material.
Structure Drawing